Ecommerce Website Design
Raise the bar for your customers with an online experience that exceeds their expectations and enhances your ROI.
Suggested Pages
Give users the flexibility to search for the products that they're interested in.
If the search bar suggests results, that will help you sell more by sending traffic to those specific products or categories. Don't forget to highlight certain promotions as well on seasonal holidays, which can push traffic to specific parts of your website.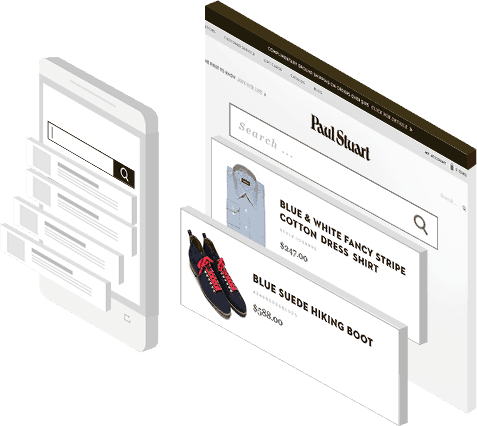 Product Filtering
Allowing your users to customise their ecommerce experience on your website by giving them the ability to filter through your category pages based on prices, popularity, and more is an essential tool for any website to have. Customers don't enjoy clicking through endless pages of products, so having a "View All" option is also a good idea to make things easier. To help customers that are interested in a product on a category page, use a quick preview feature to help your customers decide if they want the product without having to click through to the actual product page.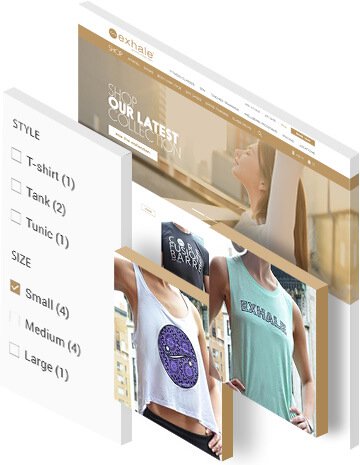 Product Details
It is very important to provide all of your product information, including extensive details about each of your products in a clean, concise, manner. If a customer cannot find all the product information they are looking for, they may feel too uncertain to complete their purchase. When products, sizes, or colours do happen to go out of stock, allow customers to sign up to be notified of when the product they were looking for becomes available. This way they are less likely to go to a competitor, and it shows that you care about serving their needs.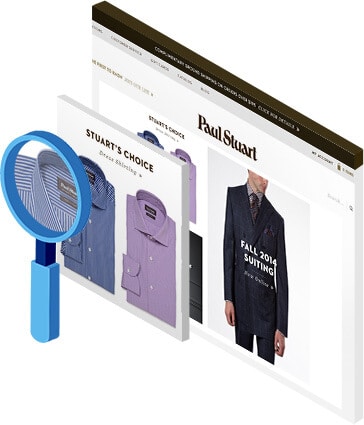 Dynamic Shopping Cart
When a visitor adds an item to their shopping cart, make sure to display the cart on the page in a small window that dynamically populates with the product(s) the customer is adding. This way the user experience is smooth and the customer is assured that their goods have been added to the cart. Sometimes, visitors may add a number of items to their shopping cart without having the intention of actually completing their purchase. Rather than forcing your customers to make the choice between deleting a product from your cart or buying it, allow them to save it for later instead.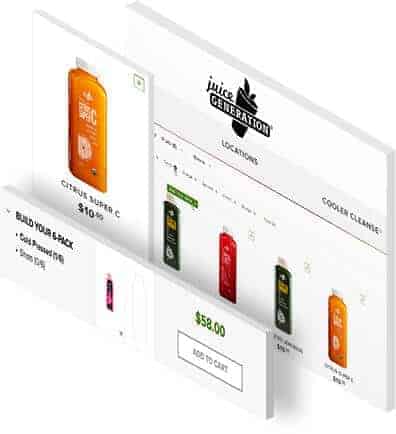 Shipping Options
It's essential for any successful ecommerce site to avoid using a single or flat rate for shipping. Different customers will want different shipping mods – some want their products to arrive immediately and others are fine with paying less for slower shipping. Since the checkout process is a significant investment of time and effort, allow customers to calculate the shipping costs directly from their shopping carts before they start going through the checkout process.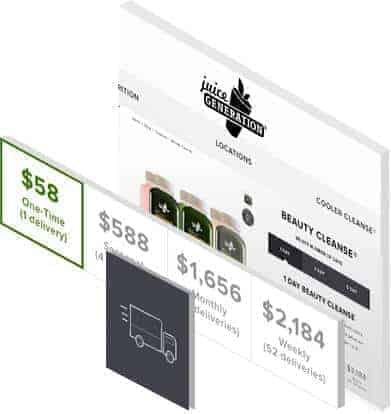 Payment Confirmation
Clicking the final "submit payment" button for many customers can be a very stressful moment. Calm their nerves by not only displaying a payment confirmation page but also by sending them an email confirming receipt of their payment. Provide your customers with tracking information once their order has shipped as well so that they can feel at ease through the final step of the transaction.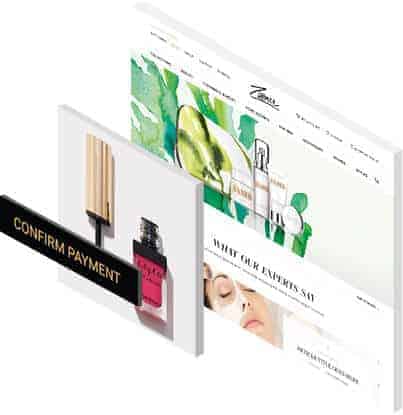 Successful Ecommerce Website
Set clear goals on every page
Every page of your website should have a defined purpose.
For example, your homepage should entice users to click through to your categories, or better yet, straight through to a product page. From there, your product page should answer any lingering doubts users might have and convince them to make a purchase. Your shopping cart page should simplify the checkout process and have a feature like a follow-up email that reassures shoppers that the transaction was successful. Keep this in mind when planning out the various types of pages that you'll have on your ecommerce website.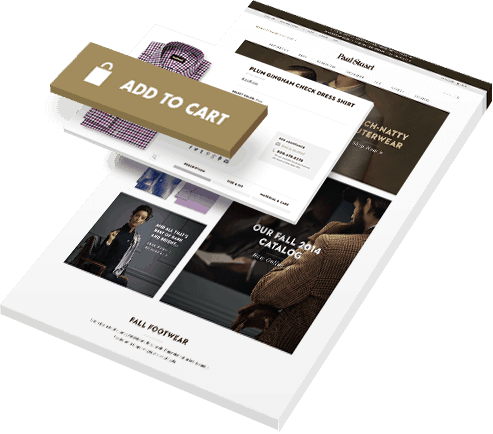 List contact information
Find ways to make it very simple and enticing for customers to contact you so that it's easy for them to get in touch with you directly.
If you don't display your contact information visibly for your customers and they have to scour your site for contact information, it could lose you a sale. Outside of listing your location and phone number, you can also provide FAQs, product reviews, or comments for users to read, as well as user-generated content like customer testimonials that highlight satisfied customers that use your products.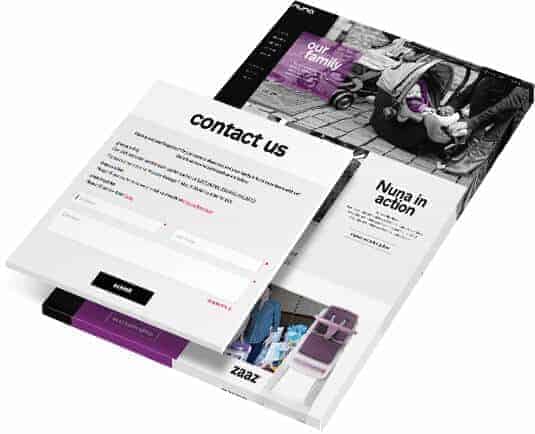 Build brand loyalty
Look for opportunities to bring users back to your website whenever possible.
Most people shop online by visiting a number of different websites when searching for a particular product. Ideally, the more times a user visits your website, the more likely they are to make a purchase. A great way to bring users back to your website is with timely emails that go out announcing the arrival of new products or seasonal sales. If a popular item is out of stock, you can also ask for users' emails and notify them when you have that item back in stock. By doing this, you're not only servicing their needs, but showing them that you care about their experience beyond selling them a product. Furthermore, you also have their contact information for future email campaigns.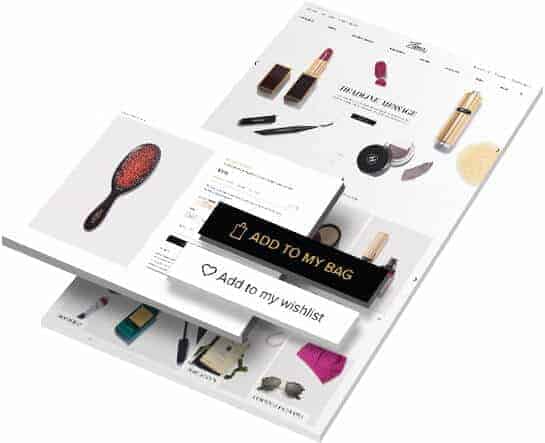 A hassle-free checkout process
Create a checkout process that makes it effortless for your visitors to purchase your products.
It has been proven that the more cluttered and complicated an online checkout page becomes, the more likely a customer who was willing to make a purchase will just exit your site instead. As well as maintaining a simplified checkout process, work to make your customers clearly aware of extra costs such as flat, expensive shipping rates that could hamper a potential sale. Finally, display trust symbols like VeriSign or McAfee badges proudly on your website in order to indicate that your checkout process has been verified and is secure in order to help ease any fears that potential customers could have when shopping online.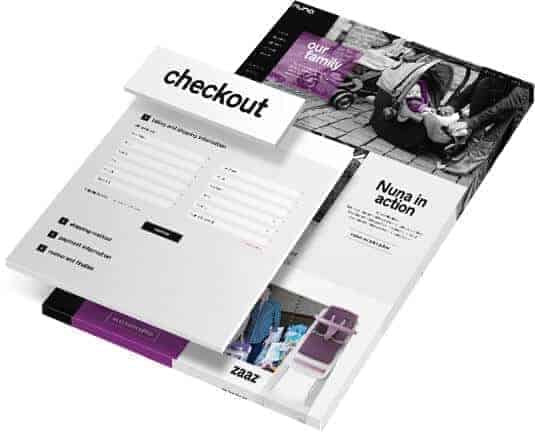 Be up 100% of the time
A website is only a helpful ecommerce tool if it is functioning correctly.
Make sure that your hosting plan is reliable and that it has the ability to handle any future needs your website might have. Your hosting plan should grow as your business and orders grow, and if your plan is lagging behind and delaying your shipping or curtailing potential sales, you need to upgrade immediately. Being skimpy on a hosting plan that is not suitable to handle the number of orders coming in will negatively affect your reputation and lead to decreased sales figures.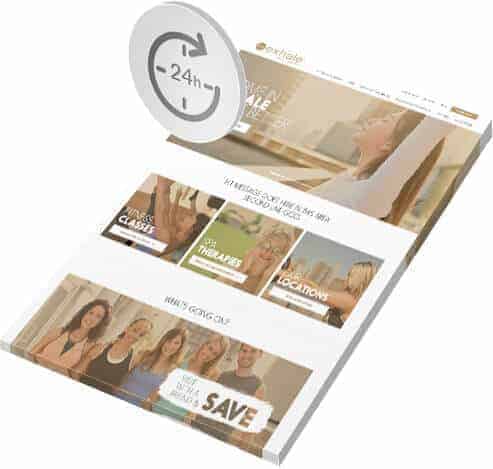 Ready to discuss your project?
See how your business can benefit with Digital Applied on Your team.
WORK WITH US