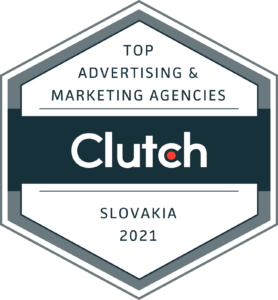 Pay-per-click (PPC) is an advertising model that promotes services or products to a specific target audience, mainly local consumers. According to a study, about 80% of internet users search for local businesses and 70% of those people actually go to the businesses that they found from their initial search. If you're looking to leverage your business through PPC, we're the perfect team for you!
Based in Bratislava, Slovakia, Digital Applied is a full-service digital marketing agency that provides quality technologies and solutions that help drive growth. We are a results-driven and client-centric team that aims for continuous improvement and rapid return on investment.
With that being said, we are extremely excited to announce that we've been ranked among the top pay-per-click on Clutch for 2021!
To help you get a better understanding, Clutch is a B2B market research and review platform headquartered in Washington, DC. To be considered for the Clutch Leaders Awards, B2B agencies must prove their prominence through several criteria such as past client reviews, market position, case study, and social media presence.
The Clutch team's evaluations shows that Digital Applied is one of the highest-performing PPC management companies in Slovakia. This is massive for us! Clutch's recognition is a testimonial to how hard we work and how committed we are as service providers.
"It's an honour to be recognized among Clutch's leaders. We're excited about being able to create trust with our clients which will help us build stronger relationships and reach the goal of becoming one of the leading agencies for digital marketing in years ahead!"
— Richard Gibbons, Founder & CEO
We want to take this moment to thank each of our clients who made this possible! Without your fantastic feedback, we would not have received such recognition from Clutch. 2020 was a rough year for everyone, not just for our team, that's why we are absolutely gracious for everyone who stood with us and supported us throughout the journey.
Digital Applied is looking forward to seeing more opportunities come from this massive achievement. We are eager to take on the rest of the year and win another Clutch Award next year. Want to leverage your business? Get in touch with us! Drop us a line and let's work together to help your business gain traction and grow.